Games from / Jeux de
Jean-Louis CAZAUX
Tel: +33 (0)6 86 38 39 25
Un jeu de cartes et de gestion de ressources sur le thème des grands mammifères d'Afrique, utilisant le principe de l'awélé.
An exciting CARD GAME inspired by international RUGBY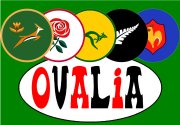 Le fameux jeu de cartes inspiré du rugby
Support de la non moins fameuse Coupe du Monde d'Ovalia, remise en jeu chaque année au Festival des jeux de Fonbeauzard (31)
---
The combined pleasure of cards and dice
Astrological cards: 12 zodiac signs x 6 cosmic symbols; and a set of multiface dice
Le plaisir combiné des cartes et des dés
Des cartes astrologiques: 12 signes en 6 symboles cosmiques et un jeu de dés multifaces. Lien en français
---
Classic playing cards revisited: a large 6-Suit Deck
Le jeu de cartes renouvelé.
---
A double 54-card deck, rugby-inspired, wonderfully original to play all classical card games!
Un double jeu de 54 cartes, d'inspiration rugbystique et sportive, merveilleusement original, pour jouer à tous les jeux de cartes classiques !
---
Guess and rank countries of the world from their flag
Devinez et classez les pays d'après leur drapeau
---
Guess and rank the states of the United States of America from their flag
Devinez et classez les états des États-Unis d'Amérique d'après leur drapeau
---
HOFÄMTERSPIEL
A fac-simile of one of the early playing card deck
Une reconstitution de l'un des plus ancien jeu de cartes connus
Also on Wikipedia
---
La Métamachie (Metamachy)
An enlarged chess around the symbolism of 12. 12 types of pieces, 12 different set-ups, a 12x12 board. Metamachy has its fans. It is one of the most popular game for on-line games on Jocly platform. Its openings and strategy are now being studied, see videos.
Un jeu d'échecs élargi, autour du nombre parfait, le 12. Il y a 12 types de pièces, 12 positions de départ différentes et l'échiquier possède 12x12 cases. La Métamachie possède son propre traité: Traité Pratique de la Métamachie.
---
Welcome to this website dedicated to Chess, Xiangqi, Shogi and more
(shako, terachess, ...)
Their origins ... and their history
Les échecs sous un autre angle
Bienvenue sur ces pages consacrées aux Échecs, au Xiangqi (échecs chinois), au Shogi (échecs japonais) et bien d'autres.
Leurs origines et leur histoire
---
(Praxeo, 2010)
(McFarland, October 2017)
jean-louis.cazaux&laposte.net
(please, remplace "&" by "@") Persil
---