ECLIPTIC
Be the Lord of the Zodiac
Texte en français, cliquez ici
---
ECLIPTIC is a 2-player tactical game where one has to manage simultaneously astrological cards and polyhedral dice
The game includes 72 playing cards representing the 12 zodiacal signs, each one in 6 different colors and astronomical symbols (sun, moon, star, galaxy, planet, comet)
Each player has a set of polyhedral dice: D4, D6, D8, D10, D12, D20
There are also 12 neutral bicolor cards that have to be set in-line to form the Zodiac line. This line separates the two sides, white against blue
---
A game of ECLIPTIC on-going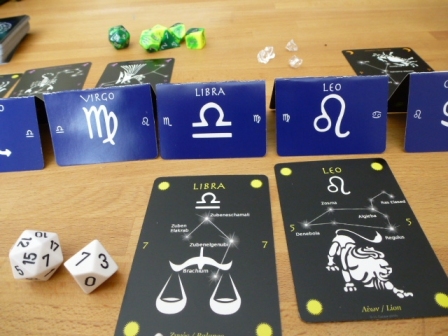 ---
Few exemples of cards:
ECLIPTIC: back of the cards
---
(Version 3)
---
ECLIPTIC is manufactured from two on-demand US printers, DriveThruCards and TheGameCrafter. The quality is professional. The cards are printed with High resolution. They are US poker size (2.5"x3.5") on premium paper (11.6pt, 320gsm, UV coating). They are well opaque, rigid and slip very well.
The full game is available by contacting me at:
jean-louis.cazaux&laposte.net (please, replace "&" by "@")
The full game includes:
90 playing cards: all the cards of the game + extra-cards with the rules.

Two different sets of polyhedral dice (D4, D6, D8, D10, D12, D20).

A set of 12 plastic gems.

A solid, colorful tuckbox or a transparent plastic box (as preferred), containing everything.
The 90 playing cards alone may also be ordered.
---